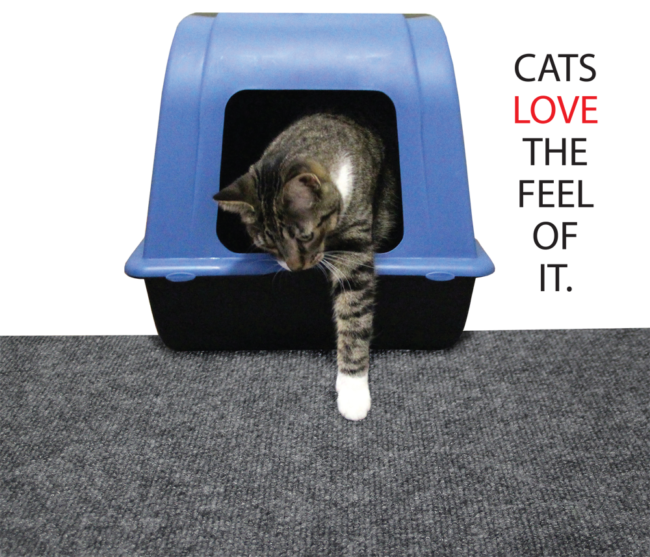 Litter Trapping Litter Mat
If you've been searching for a litter mat that reduces litter tracking and one that cats love, look no further.
The Drymate Litter Trapping Mat is made from a polyester fiber with just enough texture to grab litter from paws as cats pad their way out of the litter box. The soft material is so easy on paws, even the most finicky of felines will approve.
SOFT, COMFORTABLE MATERIAL CATS LOVE

REDUCES LITTER TRACKING

EASY CARE – SHAKE OUT & MACHINE WASH

WATERPROOF BACKING PROTECTS FLOORS

ENVIRONMENTALLY FRIENDLY MATERIAL
WHAT CUSTOMERS ARE SAYING

BLOGGER REVIEWS
"The cats obviously loved the feel of it. To me, this is the only litter mat worth using. It's comfortable for the cats, the large mat catches most of the litter, it doesn't slip and it protects the floor from litter box mishaps."
Dusty Rainbolt
DUSTYCATWRITER.COM
"I am happy to report that there is little to NO litter littering my floor anymore. I also like that this mat is comfortable to walk on. Cleaning is a breeze. Resolve your 'litter confetti' syndrome by getting your paws on the Drymate Litter Trapping Mat."
Arden Moore
FOURLEGGEDLIFE.COM
"…litter mat that really WORKS and keeps the litter trapped directly outside the box. They are also environmentally friendly – made 100% from recycled plastic bottles – a great feeling to know that all these throwaway bottles are going to good use."
Marva Marrow
7THHEAVENCATS.COM