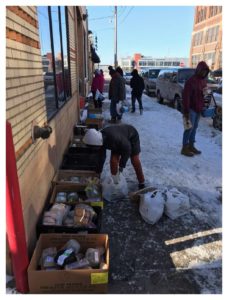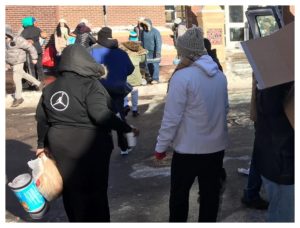 Over 20 years ago, before I started working for RPM, I had lost everything. 9 years of self-employment suddenly ended as my largest client went out of business. Unprepared financially for this setback, I was forced to leave my home with only my clothes and 2 boxes of books. For the next 6 months, I couch surfed with family or friends as I tried to pull my life together. I wasn't mentally ill, addicted or a victim of domestic violence. I was just a normal person who, because of unexpected events, had become homeless.  I was lucky to have a support system, but many do not.
As many as 3.5 million Americans are homeless each year. Even though communities have increased temporary overnight housing for the homeless, over 30% cannot find a bed and are sleeping on the streets.  Contrary to the belief that the majority of homeless have addiction issues or physical or mental disabilities there are many causes of homelessness in America.  Poverty, job loss, divorce and domestic violence are some of the circumstances that can push people into living outdoors.
Some people prefer to stay at a homeless shelter or community, as they feel safer being with others in the same predicament. Some would rather be alone in a secluded area because they don't trust that others won't harm them while they are sleeping. They will sleep in cars, under bushes, on benches, in doorways, behind dumpsters or just outdoors in a park or woods.
Our winters in Minnesota can be brutal with temperatures well below 0 for several months. Even our spring isn't immune from a fresh snowstorm. Last month, in May, right before our Fishing Opener, several cities received 6-10 inches of snow! Great when you are warm and safe inside, not so great when you don't have any place to call home.
One December night, Nick Sovell, our CEO was watching a news program about local companies helping Loaves and Fishes of Minnesota with donations for the homeless. Gloves, hats, and socks were being distributed and he thought RPM could help. RPM Drymate manufactures a line of absorbent and washable mats that feature a waterproof backing that prevents soak through.  He discussed this with Mike Bachman, President of RPM, and they came up with a plan to take some of our excess Drymate material and create waterproof blankets.  At least, if the homeless were sleeping outdoors, we could provide a blanket that they could sit or lie on. Or even use to wrap around them as a wind or rain cover. The waterproof backing provided a barrier that prevented moisture, dirt, snow etc. from seeping through to keep them clean and dry on any surface.  Mike Bachman designed the mat so that a 6ft 2" adult could comfortably lie or sleep on it and that it rolled up compactly. Lastly, he added an elastic carrying strap to make it more portable.  Mike was invited to hand out the blankets to a group of homeless individuals one cold winter day at Loaves and Fishes. He was able to witness firsthand the needs of our community.  "They came in droves. Men, women and children. I was surprised at how many of the homeless were families. I was humbled and honored that RPM could help in a small way that day."
RPM continues to partner with Loaves and Fishes in providing waterproof blankets for the homeless throughout the year. Just because the weather has gotten warmer does not mean that there are not needs.
How can you or your company help the homeless this year? Start out with finding a local agency that distributes food or other items to the homeless.
Does your company have any discontinued or excess inventory to donate? Socks, underwear, toothbrushes, first aid kits, umbrellas, sun screen, personal care products, OTC medications, non-perishable snacks, bottled water, reusable water bottles or pet food? Yes, pet food! You would be amazed how the homeless also have homeless pets. Find a home for your excess product instead of liquidating it.
How can you personally help?
Pay it forward. Volunteer your time, money and resources at an agency. Fill zip lock baggies with useful items to create care kits and carry them in your car. Fill the bags with hotel sized shampoo, conditioner and lotion.  Add a granola bar or packaged snacks and a reusable water bottle or canteen.  Get your family and friends to help out.  When you see someone who is homeless give them a care bag and a smile. If you have time, buy them a cup of coffee or a meal. Treat them with kindness. Remember they are someone's child, brother, sister, or parent. They may have lost everything, but you can fill their day with some human warmth, kindness and that someone really does care.
You can help heal the world, one person at a time. Don't ever doubt that. Small actions can make a big difference.
Loaves and Fishes Minnesota
9 ways you can help the Homeless
https://www.mnn.com/lifestyle/responsible-living/blogs/9-ways-you-can-help-the-homeless
Help for Homeless Veterans